I can do anything for 50 days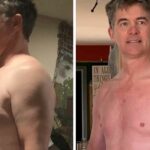 "I was just so much lighter. It was like the wind was at my back and I was thrilled."
Like most of our dieters, Dieter Grant heard about Plan Z on the radio. Unlike most of our dieters, he hasn't done much dieting in the past. So when Grant finished Plan Z he was pleasantly surprised by how much weight he lost. During his interview, he told us, "I kept having to re-set my goals, it was working so well."
Dieter Grant wanted education on better eating. What he received was so much more: shockingly simple and delicious recipes, improved lab results, and an everlasting grin. Oh, and much less snoring!
Take a look at his lab results below.

Grant achieved our average weight loss of 31 pounds in 50 days. He developed a really catchy mantra to keep him focused on his goal, his landmark on the horizon.
"50 days is going to happen anyway.  How do you want to look at the end of it?" And, "I can do anything [for] 50 days."
Tap the image beneath to hear more charming tales from Dieter Grant.
One of the things that makes Plan Z so successful is the unlimited inspiration for fresh, home-cooked meals.  Our dieters have access to over 900 recipes to choose from and we keep adding more! Dieter Grant didn't have to repeat a meal for more than two or three weeks.  One of his favorite recipes is Zola's Asian Balsamic Glazed Salmon.  Maybe it'll be your next favorite, too.